Cone Deboning Line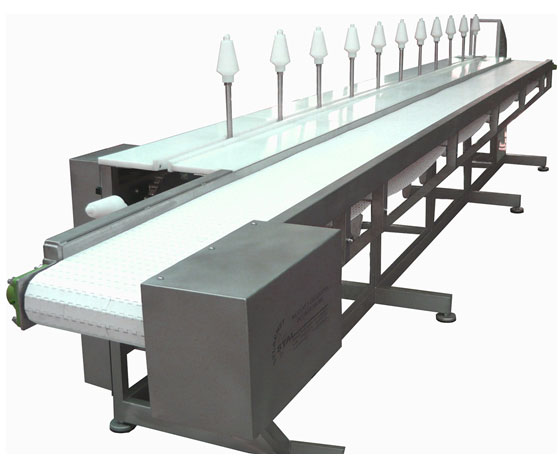 The poultry Cone Deboning Line (or cutter) is designed for effective and hygienic cut-up and filleting of any type of poultry.
Design and operation:
The cutter is made of stainless, acid-resistant materials and special food approved plastic.
It consists of the following sub-assemblies, which, when properly combined, form a track for portioning spindles (cones):
Carrying frame made of hollow profile sections. The lower profile is equipped with feet for height and level adjustment. The upper part of the frame is covered by a two-part tabletop fastened to an angle section, which is welded to the frame profile.
Double chain conveyor consisting of:
a drive unit, a tension unit (located at opposite ends of the frame)
stainless steel chain, type 260SS, special plates mounted to the chain to which PE cones – spindles and upper and lower guides are mounted
The chain conveyor, the drive and tension shafts, as well as the upper and lower guides are fixed to frame elements.

Shield set:
mesh shield I for protecting the turn of cones at the side of the drive unit
mesh shield II for protecting the turn of cones at the side of the tension unit
side shields mounted to both sides of the frame

Control cabinet with a frequency converter, which allows for adjusting conveyor speed and, as a result, the portioning capacity
Safety switch system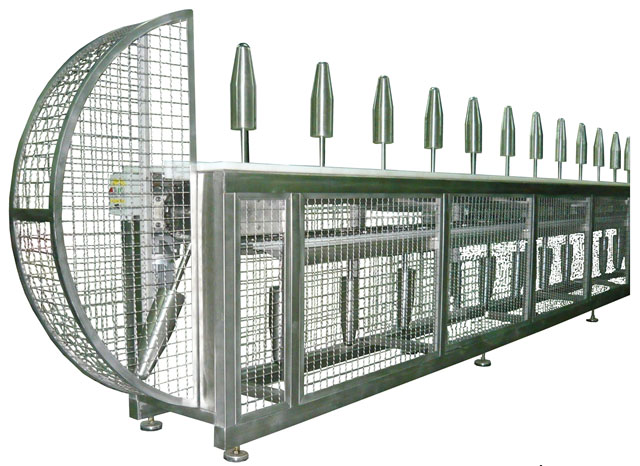 Different kind of cones allow the use of this line for broiler, ducks, geese as well as turkeys.
Further special cones for breast cap filleting complete the line. The line comprises the drive and turning
unit and can be combined with segments of 1.60m length in any desired quantity. Thus, giving the opportunity to have a tailor-made solution for any bird capacity per hour required.
The line is equipped with a speed adjustable drive gear, the switchboard with all necessary controls as well as an emergency cut-off wire.